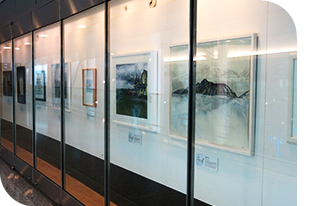 Every two years, Toronto Pearson International Airport invites artists from the community to submit works for a juried art exhibition. Artists' levels of experience range from amateur to veteran. For the 2013 exhibition, artists were given the theme of travel.
Instead of awarding a prize, the Greater Toronto Airports Authority purchases the work of one artist from the submissions. The winner of the 2013 Juried Art Exhibition's Purchase Award is Jason Brown.

Jason Brown is an emerging Toronto-based photographer. Brown's winning photograph, Canada Rocks, Middleton, PEI, 2011, is described as, "part of a series that is a reflection on the Canadian landscape and small town life – laying bare a country that is in one light authentic and charming, and in another troubled and enigmatic."
A panel of three judges narrowed submissions down to seventeen, including Brown's image.
Travel: A Juried Art Exhibition runs until April 13 in the Terminal 1 Airspace Gallery, directly above Canada Arrivals.