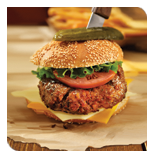 Enjoy a great burger or foot long hot dog with fresh-cut french fries and a cold beverage at True Burger. They feature Ontario corn-fed beef and you can choose your own toppings then finish off your order with hand cut fries or a loaded poutine (it's a Canadian right of passage!) Relax with a great meal while you wait for your flight to take off.
Location: Terminal 1, Gates, Parking and Link Train, After-Security (USA).
Note: Near gate F66.